Best Practices
But Did It Work? Answering Marketing And Sales' Burning Questions With Path Analytics And PathFactory For Sales
PathFactory has always been focused on two essential marketing outcomes:
Enabling buyers by empowering them to binge on your marketing on-demand
Generating insight by measuring the consumption of your marketing at both the individual and account level.
In 2019, B2B buyers are in charge and in control of the buying process. With the democratization of information, they hold the cards, but today PathFactory is levelling the playing field with the announcement of a groundbreaking suite of new capabilities: Path Analytics and PathFactory for Sales allow marketers to understand precisely what's working so you can optimize on-the-fly, and provide sales teams the insight they need to have the most relevant conversations with prospects, all based on first-party consumption data.
The problem with traditional marketing metrics
Most martech solutions today attribute value to a volume of binary metrics, such as clicks or form fills. These data points are full of false positives and result in leads and accounts that convert poorly to pipeline and revenue. Marketers and salespeople alike have become disenchanted with these measures of success.
At the same time, you often can't understand what worked in your marketing. When you run advertising against an account, the best you can do is see whether that account hit your website afterward – not whether you caused someone to self-educate. Determining content effectiveness is virtually impossible – you have no idea whether the content was actually consumed after someone clicks through on a content offer. Worst of all, sales has limited visibility into the activity of their leads and accounts. Reps are left questioning the quality of all marketing-sourced leads, especially when they contact a lead who "downloaded" your whitepaper and the person says they didn't read it. When they can't easily see the activity marketing is generating, they begin to question marketing effectiveness.
It's no wonder that revenue teams alike have started to demand better quality, more reliable metrics and greater insight into content consumption. In five years, we predict that all marketers will be focused on the quality of the encounter that individuals or accounts have with their marketing. PathFactory has pioneered this movement and, based on years of experience working with our customers, these new capabilities in our platform tackle B2B's toughest questions. We're finally giving marketing and sales clear insight on buyer and account engagement, content and channel performance, and overall marketing impact.
Introducing Path Analytics
Powerful marketing performance intelligence
Path Analytics gives marketers the reports they've always dreamed of, but until now have been impossible to generate. Fundamentally important questions like which accounts are consuming content, which content is working, and how channels are performing are easily answered using this new intuitive reporting layer in PathFactory's Content Insight and Activation Platform.
While other solutions may assign "time" to particular binary actions (e.g., 10 minutes for filling out an eBook form), PathFactory measures down-to-the second how much time was spent on your content by an individual. PathFactory also displays this consumption data by account so marketers gain useful insight into the accounts that are the most deeply engaged as well as the people at the account who might make up a buying committee. Trending topics and assets are easily surfaced so you can understand exactly what is resonating with the account.
To determine how content is performing, Path Analytics can compare the consumption of assets against each other, and use CRM data to generate opportunity influence and ROI reporting.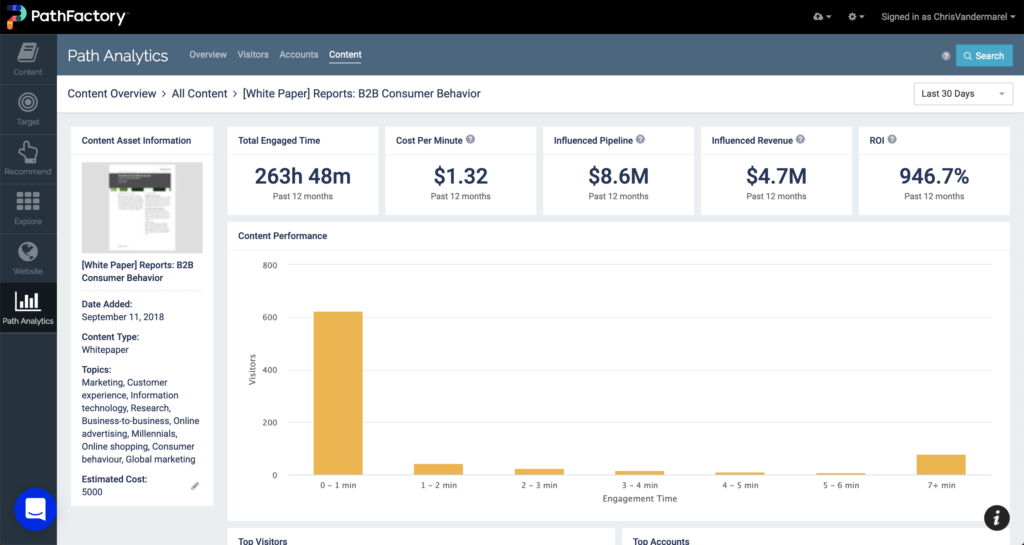 Other Path Analytics capabilities include:
Evaluating channel performance based on the content consumption channels generate
Understanding trends in content consumption over time
Visibility into content consumption by industry and geography
Exposing which topics are resonating with which audience
This exciting new addition gives marketing teams the insight they need to optimize their spend on channels and content. You'll clearly see how effective you've been at educating your target accounts, and you'll know how to align the right topics to the right audiences.
Introducing PathFactory for Sales
Actionable buyer data right in your CRM
We're often asked about the best way to give sales visibility into the consumption data PathFactory customers collect. In the past, we've recommended automating email alerts or baking PathFactory data into tools like Marketo Sales Insight or Eloqua Profiler. Now there is a simple and intuitive way for anyone with CRM access to easily uncover the content consumption by leads, contacts, accounts, and opportunities, directly inside the CRM.
As you're browsing individuals or accounts, PathFactory for Sales clearly displays the time (in minutes and seconds) that people have spent consuming your marketing. This is can be enabled by a Salesforce Visualforce app, in Microsoft Dynamics, or inside Eloqua Profiler. If it's unclear what a particular asset is about, sales can easily see topics, the description, and a direct link to the asset itself.
We're also extending a filterable dashboard to the CRM so it's easy to see the accounts and people who are spending the most time with content within a particular territory. You can filter based on any account or opportunity field to ensure the results are relevant. Individuals are grouped by account and prioritized by time spent on content.
With PathFactory for Sales, sales teams are no longer left guessing about how self-educated and sales-ready an account or lead is. They have the tools they need to see exactly who has been consuming your marketing and exactly what its about. The result is better informed conversations that lead to better conversion, and no more questioning whether a lead or account is qualified. Talk about sales and marketing alignment!
Sound like something you need?
With these enhancements to the PathFactory platform, we're providing a clear answer to the one question you need to progress your marketing and sales maturity forward: was your marketing actually consumed? The powerful data PathFactory collects can now be easily exposed to sales and marketing in a more relevant way than ever before.
PathFactory pioneered the idea of content binging for B2B and our customers have incorporated the unique consumption data they collect using our Content Insight & Activation Platform into their marketing processes for years. By zeroing in on the audiences that are consuming content, marketers have greater clarity in their targeting and segmentation. They're able to pass leads to sales that convert faster, and most importantly, better enable their buyers by delivering more personalized, responsive and efficient experiences.
To learn more, book a demo. We'd love to chat!